The big hype about smart watches has still not really hit us yet, and although Apple brought a nice little gadget to the market not everyone is convinced that this is thé absolute must have item this summer.
And who can blame them? Smart watches and other wearables are selling reasonably well, but you do not see a lot of people actively use their devices in public (just yet). Maybe that is because there are not enough apps to play around with, or smart watches are still a bit of a geeky/techie thing?
I can only speak for myself, but if this wearable is it good enough to replace my phone – it will need to look mighty good to compensate for it. For me personally, the Apple watch is not the right daily watch to wear. It does not fit to every occasion, and without a power socket I cannot even use the thing on a nice long weekend.
In comes the Mondaine Helvetica smart 1
You might know Mondaine from the apple lawsuit a little while back, in which Mondaine successfully sued Apple for using their trademarked and iconic Swiss Railway (SBB) clock watch face on the iPhone.
Now Mondaine has reinterpreted Swiss history for the 21st century by placing smart technology in its collection inspired by the iconic Helvetica® font.
Limited to 1,957 watches – the year Helvetica® was born – each watch engraved with "1 of 1957" offers a part of Swiss design and craftsmanship at its very best. You can now pre-order one of the world's first Swiss-made, horological smartwatches and a piece of history for the modern age could be yours.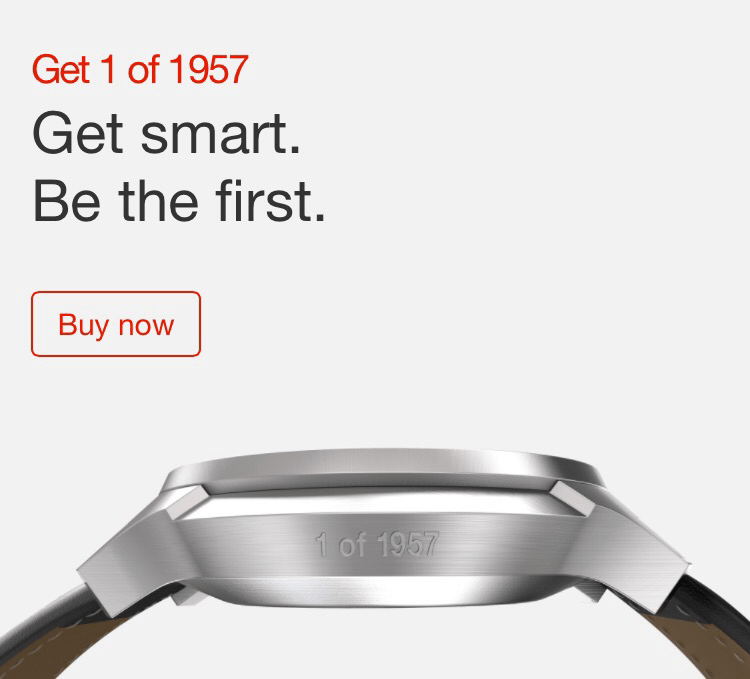 Swiss craftsmanship + Smartwatch?
Yes it does seem like a bit of a strange combination, the Swiss have not been all too fold of smart watches so far. Tag Heuer is said to bring out their Android powered watch at the end of the year, but not many premium watchmakers have given wearables and tech a lot of attention.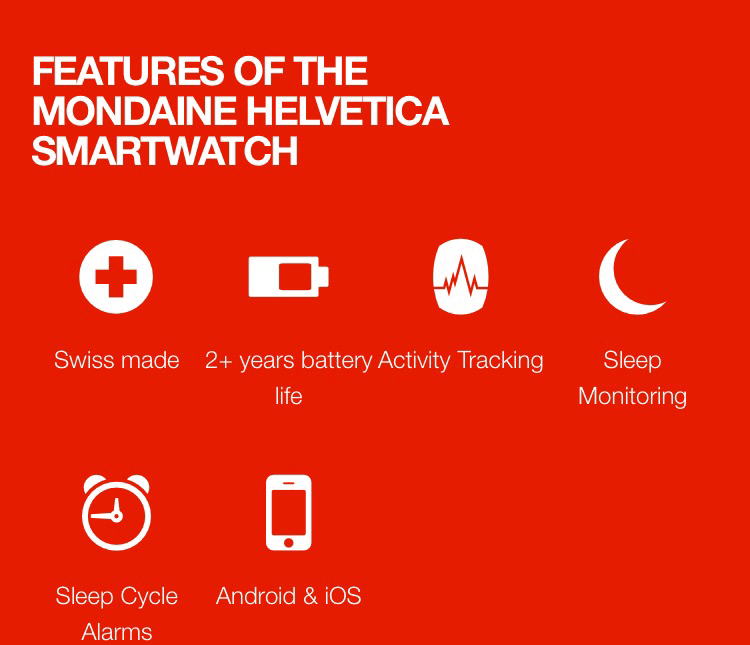 The Mondaine Helvetica 1 smart watch is not a typical Smartwatch, as it does not have a touch screen – or notification features. It is more of a fitness tracker than anything else. But a beautiful one at that!
If you are interested in tracking your health, steps and sleep a little better, without showing off with a geeky looking Apple watch, then this might just be the watch for you.
I really love the design and I can't wait to see the Mondaine Helvetica 1 smart watch in 'real Swiss time' very soon.
What do you think of the Mondaine Helvetica 1? Feel free to leave your comments and ideas below.
Update 07.09.2015: It has finally arrived!
Mondaine finally started sending out the Mondaine Helvetica Smart 1 – Limited Edition and mine arrived in a pretty little box. My first impression: this watch oozes of quality and craftsmanship and is by far the best looking smartwatch/fitnesstracker on the market today.
The watch face is a little larger than I had imagined it to be, which is great for men with slightly broader wrists. Yet the watch does not look lumpy in any way. The lines are subtle and elegant with beautifully smooth contours. The light grey watch face makes the watch very easy to read gives it an extra touch of elegance.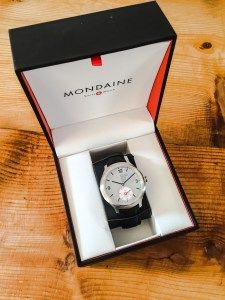 Helvetica brings out the best in this watch
The Helvetica Font is a timeless and modern font type that is not only stunning, but also very easy to read. The legibility of a watch face is a strong asset for the Mondaine Helvetica Smart 1. This limited edition (1 of only 1957 watches – the Helvetica Font was first designed in 1957) combines a "plain" black and white watch face with a touch of "sporty" red. The red chosen is of course that of the Swiss Flag. The crown/button is also engraved with the Swiss cross.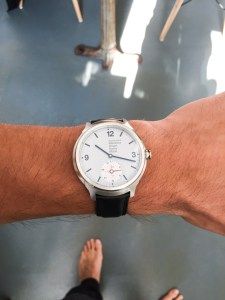 This is for me personally the best looking smartwatch/fitness tracker on the market today and I am looking forward to testing out all the features that are packed into this beautiful watch.
A watch is something personal, and as much as I love gadgets and technical innovations – I feel that the larger tech-companies need to start to understand that a watch is never really going to replace a phone as a second screen. It is simply too small and the usability on most watches is a disaster. Watches are luxury fashion items and that should remain that way.
In the next few weeks I will have a thorough look at the features of the Mondaine Helvetica Horological watch, and will surely share a few impressions along the way.
Mondaine have done everything right
In my humble opinion, Mondaine has done everything right with this watch. It looks and feels like an affordable premium watch, with a few new and innovative features. Technological advances will continue in the years to come and although this watch is not ground-breaking, it does represent the steps that we are making as a society.
Bringing tech-gadgets to the masses is tricky and in the last few years there have been very few companies that have succeeded in changing our user behaviour. Why not show people step by step what technology can do and integrate more and more features into products that they already love.
The evolution of technology does not always need to be disruptive, the internet of things movement is a process that will take a number of decades. I hope we can continue to enjoy the quality handmade craftsmanship of watchmakers in the future too and continue to value that what is good in traditional products as we have done in the past decades.