Periscope Audio Only Launches on Twitter
For those of you who have already forgotten about Periscope, I could not blame you, Twitter has just given it an interesting update and twist
Periscope had quite a run for a while, as it became the first real live streaming platform for video content. Everyone could basically become a reporting using Periscope and its brilliant integration with Twitter made it very easy to share content quickly.
Two years down the line, after Twitter buried the app in its "add-ons" section, Periscope has lost nearly all of its traction. Which I personally find a real shame. I love the concept of live streams and the possibilities it offers. I imagine real-time support (customer care), informative lessons and Q&A-sessions to be a dream on a platform as Periscope/Twitter.
However, very few people actually seem to use it that way.
Live streaming is not that easy
There are a number of great challenges for live streaming. The biggest probably being that that most people simply do not have enough very interesting content that they would like to share in real time. Real time, live videos are a lot more intrusive than a perfectly stages photo or short video clip. Periscope is very unforgiving and simply shows the world what you are looking at, no filters, just the way it really is.
Now, I hear you think that it could be due to the demographics and the platform might be the problem. Others are "doing it" as well, right? But even Instagrams longer videos section (called IGTV) seems to be having a hard time getting off the ground. The amount of longer video content is very limited. Even within my personal "bubble" of a couple of hundred very active Instagrammers (30-40% post something on a weekly basis), not a single one has really dug into the longer video content.
It is simply not that easy to make time for lengthy interactive videos. Most of us have to actually do something for a living and cannot just spend a couple of hours per day on Periscope to share with the world what they are currently up to. Despite the fact that the number of watchers/followers can be significant.
Interestingly enough, marketeers, companies and agencies, have not really caught on to the possibilities of Periscope and Instagram's live streams either. But it looks as if Twitter still believes in the platform and continues to look for new possibilities that can help the service get more interesting to the general public once again.
Is audio the solution
Twitter has just brought out a new update to its app. You can now broadcast, directly to Twitter through Periscope, without showing your video.
I imagine this could open up a whole new way of broadcasting and might make Twitter more interesting for those who would like to post or share a real-time podcast for example.
Next to that, you do not need to dress up and look all perfect to start a Periscope broadcast anymore; something that might just appeal to a number of people who are not all that fond of video as a way of expressing themselves.
What I would like to do, is see if it makes sense to do a number of question and answer rounds on Periscope Audio, regarding certain topics. I could imagine that the interaction rates are not as high as they would normally be on a video "post," but maybe the opposite will happen.
Twitter has a content sharing issue
The platform as such, has not had the best of runs in the last one or two years though. Especially when it comes to relevant, high quality user generated content, most of the attention has shifted to Instagram and Snapchat.
What has been left for Twitter have been mediocre "marketing" and "salesy"-posts mostly and a platform where people can complain about basically anything. I feel that very few of the posts on Twitter are positive by nature. But, maybe that is my own personal (professional) bubble of friends, colleagues and family.
But even within the whole country of Switzerland (with close to 8 million people), there are very few who actually use Periscope as a way to express themselves or share content. In the screenshot below, you can see that only a handful of people have shared something through Periscope in my area in the last two-three days. And it is even worse, these few posts were only done by three people – one of which was a guy from the UK, who just wanted to share his holiday videos.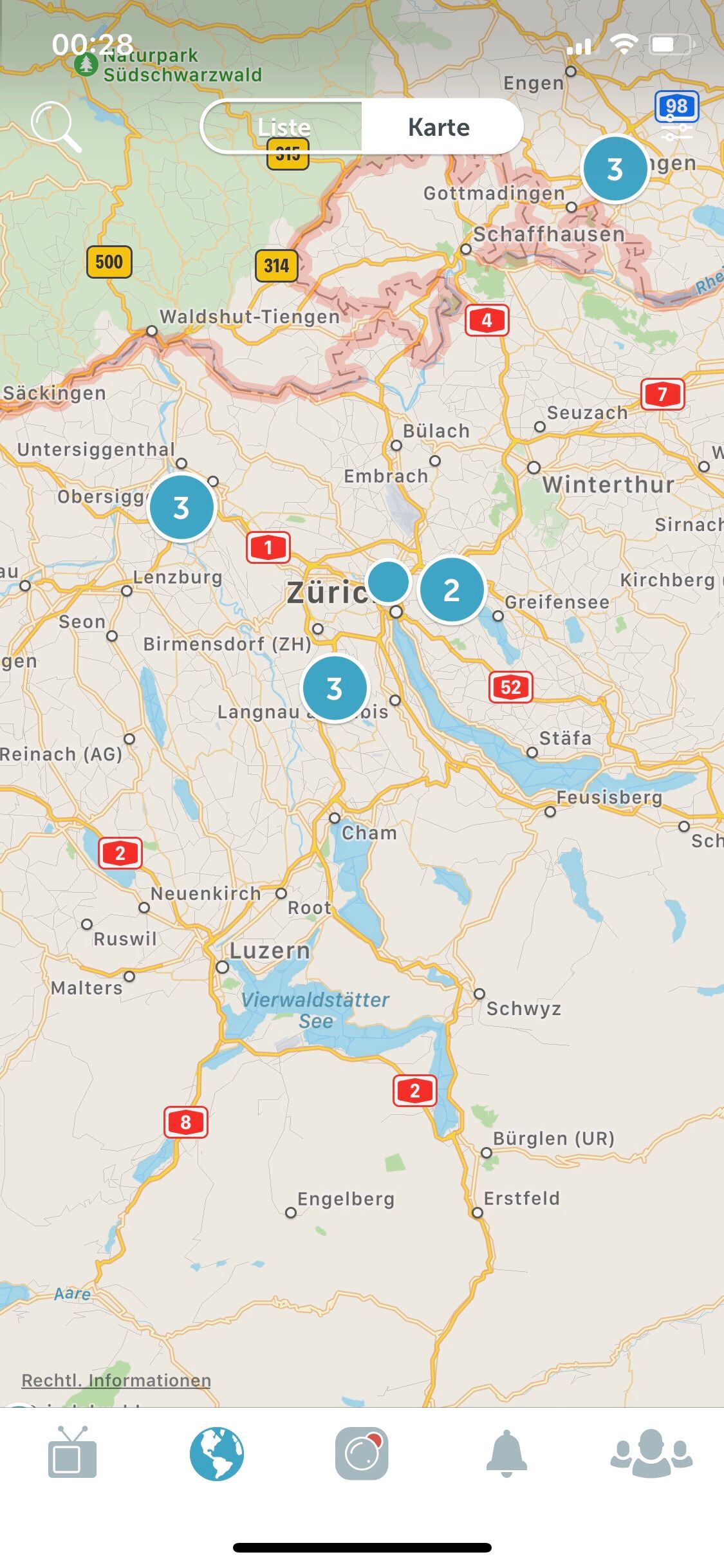 I would love to give Periscope and live chats/video a go, though. I am somewhat skeptical about whether or not I will reach (anyone) my target audience, but it is something new and if I have not tried it, I cannot really judge if it works well or not, right?
Next to that, maybe I can start some sort of revolution. At least I will know for sure that the competition for views is not all that high in the area I live.
Have you given Periscope or Periscope Audio a go yet? What were your experiences with it so far?