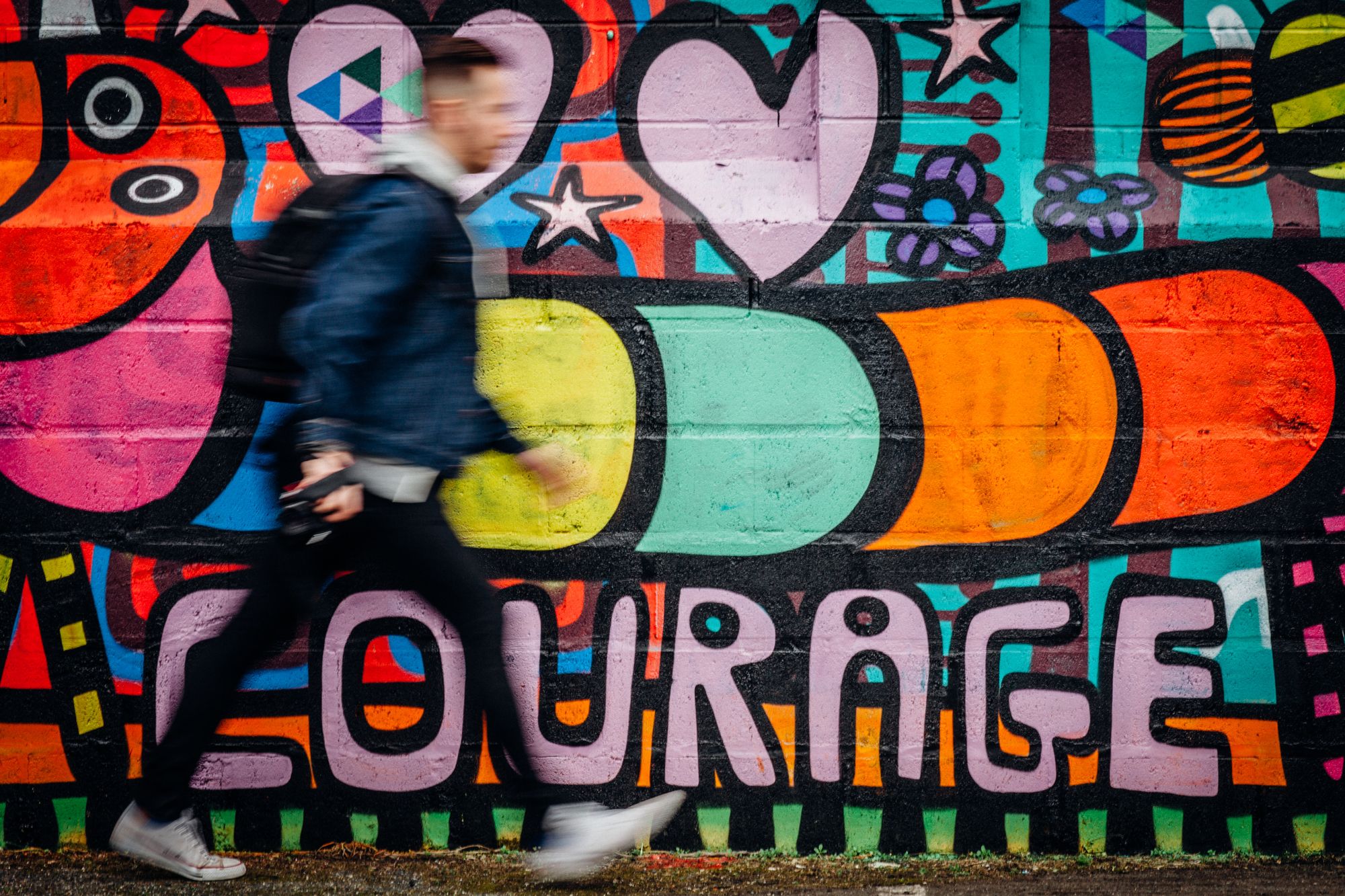 Did you start your year courageously?
The year just got started, it's cold outside, in Switzerland it snows and unless you are an outdoorsy kind of person, there's not much to look forward to. January is the Monday of all months; the first few days of the year are a drag, nobody really wants to work and I'm sure you'll agree that customer-response times are outright absurdly slow.
For most, December is a time of reflection, but I feel that January has always been my best month in that regard. To me, January is a month, like any other. I enjoy the(se) "quieter" days to come up with a game plan for the year to come.
January is the month in which I take conscious decisions on my personal direction for the year. I feel that it is best to do so, when the emotional December rollercoaster of family events and reflection is over.
In the last few years, I found the first few January weeks to be perfect for that. Most of our clients were still "out of office," enjoyed their (sun/)ski-trips. And most importantly, our clients were hesitant to take a stand on pretty much anything.
This year, things were really very different from the past four or five; and it has been great.
What entrepreneurial courage is to me
It takes courage, to tell others about your beliefs
Entrepreneurial courage to me, is to take a decision on where I want to go, and stick with it. Sure, I know that entrepreneurs love and need to pivot their business models and ideas. However, the general mindset and midterm goal(s) should be set.
Last year was all about consolidation. We needed to keep our current client base and consolidate our core team. GANDT Ventures is more than a consulting firm, it is a way of life and a long term tool that enables us to do what we really love. I need to make sure that the business at its core is strong, not so much in terms of turnover, but knowledge, team spirit and vision.
This year, is all about growth through communication and (structural) team education.
It took me a while to grasp the importance of growth. When you do not have an investor breathing down your neck, you need to come up with your own goals. Even when the vision is "clear," how to get there is the challenge.
It took courage for me to admit that my own company needs growth hacking; and that is a scary thing, because it exposes us to the outside world.
Our company has been very fortunate so far and I feel blessed for it. We officially founded GANDT Ventures (in Switzerland) in 2015. It is our fourth year running and we have not spend a single Swiss franc on marketing so far. However, neither have we communicated much with the outside world about what our services are and how we work, either.
Even though, we have done so well for ourselves and our loyal clients, we have not had the entrepreneurial courage to say that out loud.
The moment we leave our hidden champion bubble, new challenges will start. We will potentially be forced to explain our working ways to a larger demographic, deal with new customer requests, handle employee growth and education differently.
But, much more importantly, it will distract us from our current core business. The tasks we will work on are bound to be more versatile and take up a significant amount of our precious time.
Challenge for big and small, alike
This January, surprised me positively, because our clients and potentially clients showed the courage to dedicate more resources to digital innovation initiatives.
Whereas digital first comes natural to us and some new players in the industries we work in, for most established businesses, digital is a threat to their core business.
Yet, the talks I have had in the last few weeks were very proactive, positive and showed a sense of urgency to act that I think lacked with our clients in 2018. These words were uttered (nearly) daily in January: "We must act, or we'll not be able to keep up."
"What have you planned or done at the beginning of this year that will enable your organization to grow?"
It takes courage to admit that your business runs the risk of being overtaken. SMBs start to realize that they need to act, fast. I admire anyone to step up to their (own) organization and leads the way. It is not easy to break a stigma and try something new.
I am really impressed to see that so many people are willing to take a gamble on the future. To me, innovation starts with "entrepreneurial courage", regardless of the organizational size. I think we are in for a hell of a ride, 2019 is going to be a challenge and a lot of fun. Let's keep this momentum up, together.
Have a great day! Remco
GANDT Ventures (2015) is a digital innovation consultancy from Switzerland. We work with clients in Luxury Fashion, Retail, Insurance and Telecommunications. Our customers are based in Switzerland, Germany, Austria, United Kingdom and the United States.

Our core business is strategic innovation consulting paired with pragmatic venture building support (project management, omni-channel performance marketing and C-Level advisory).

Find out more about our services and the team: www.gandt.ch
And contact me directly using the contact form.