When Google introduces a feature, it has the power to change the way we use the internet. Google is more than just the gateway to the world wide web, the tools they create are installed on nearly 80% (Android) mobile devices worldwide. Hence, the I/O developer conference is a yearly highlight to look forward to. My personal highlight, the developments around Google Duplex.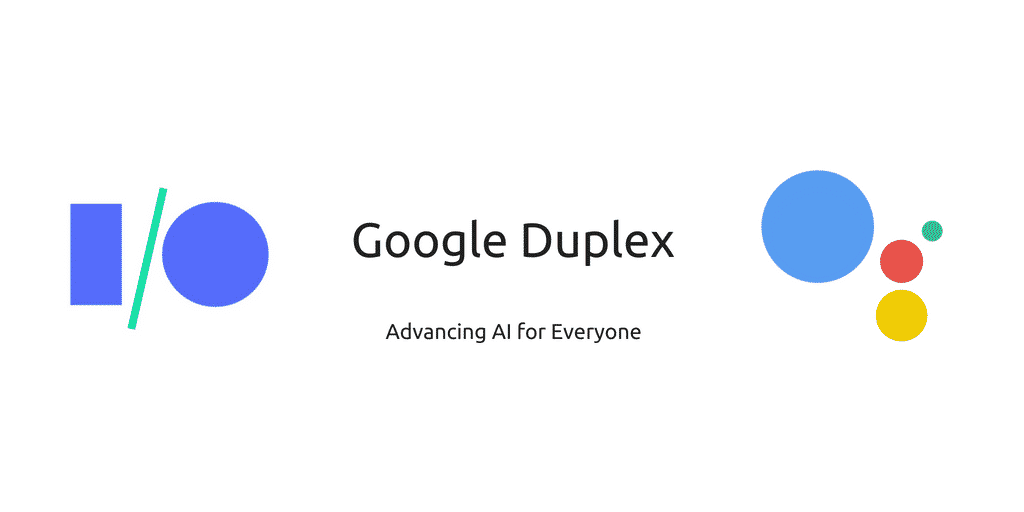 On the hardware side of things
Yesterday, Google presented us with a couple of new tools and software features; some of which have the potential to change our user behavior fundamentally. On the hardware side of things, it introduced a few mid-class smartphones and a "Facebook Portal-Like" home video calling system (Google Nest hub max – what's in a name); both products did not leave much to the imagination.
The new hardware products are nothing more than <logical> extensions of the current product offer. Adding a "budget" smartphone (which is now just as expensive as the original Nexus devices we used and loved 5-6 years ago), probably makes economic sense. Furthermore, Google had to show they could match Facebook's video calling (zoom-in, zoom-out) skills, too.
None of these products blew me out of the water, though. They are new iterations of products that have been around for a while. It came to show that Google is still more a software company than anything else. Sometimes I feel we want Google to be more than that, but they simply aren't.
Foldables
When it comes to software, the Cupertino company has shown us that it is prepared to provide hardware players with the necessary platform to perform. Google was quick to jump the bandwagon and provide us with some new insights on their software solutions for foldable smart devices.
Yet, we have only really seen Samsung make a move in the foldable space; with mediocre success. The first foldable Samsung brought to market was underwhelming, at most. However, it did give us a glimpse of what is install for us in the years to come.
When it comes to foldable devices, the hardware side of things will need to catch up with the accompanying software. Google is ready to facilitate that piece of the puzzle.
Duplex can change our behavior
There was one software development that really stood out at this year's I/O conference: Google Duplex. Google will bring it's AI software assistant to the web.
https://techcrunch.com/2019/05/07/google-is-bringing-ai-assistant-duplex-to-the-web/
Artificial Intelligence is starting to be intelligent and useful. Last year, we were shown how Duplex can schedule an appointment for us and make simple – human-like – phone calls. Creepy some say, but very impressive.
This year, Google showed off Duplex mad web-skills. Based on all of the data we readily provide on a daily basis when using Google products, Duplex helps users fill out forms, schedule appointments, rent cars and more.
https://twitter.com/rlivain/status/1126020961701191680
The fact that Duplex can fill out forms for us on the web is not the impressive part, the fact that it has the capability to make choices for us based on our past behavior is.
In a Duplex-World
Now let's consider a world in which Duplex actively takes decisions for us.
Let's say, for example, you get a calendar reminder about an upcoming trip. You can then ask Google to rent a car for your next trip. Duplex will then open the car rental company's website and fill out all of the necessary information on your behalf. Before submitting the request, you can double-check the details.
The thing is, Duplex does not only fill out the forms for you, it actively takes decisions based on past behavior. It selects the car category / price class for you, ticks the box on insurances and options automatically and more.
This changes the user experience and the interaction with the brand considerably.
Google states that you have the choice to overwrite any of the choices made by Duplex. However, it also skips the part on the options that would have been available to the user. It could potentially mean that the user is not subjected to all of the options that would have been at its disposal, had he gone through the forms himself.
Google argues that the user experience is vastly improved – it certainly makes things easier and quicker for the user. However, similarly to Amazon Alexa and all other voice assistants, "they" have the possibility to make choices on behalf of the user. This enables both Google and Amazon alike to become the middlemen.
UX becomes more(?) important
UX compliance with Google's capabilities and tools becomes increasingly important. The more compatible your website and booking platform is with the assistants out there, the higher the likelihood of Google/Amazon to choose your site as the go-to place for new customers.
Convenience is key – the faster the user can get what he wants, the better.
Brands need to understand the impact this will have on the way they build their web services. Discovery is done more and more through discovery apps such as Instagram and Pinterest, whereas the booking/buying part of things is slowly but steadily automized by Google and Co.
If your USP is the user journey on your website, you might be in a good place. However, we need to start to plan on users spending less time on site browsing for options. This leaves Brands and Retailer alike to have less time with the user on their own site.
Instagram is also eyeballing direct purchases from within the app. This too will lower the user time on site with their favorite brands.
Read more about Instagram's Checkout for Business(es) here: https://www.theverge.com/2019/3/19/18271840/instagram-checkout-shopping-facebook-business
Organizational impact, why C-Suites should care
When Duplex can take care of the technical booking/interaction with the Brand, this potentially shifts our product attention more towards discovery and product/brand communication.
When the adoption rate of AI-assistants grows, our product focus will change significantly. It is important that product owners and C-Suite Managers that we learn to understand the potential impact of such changes on our work and the organizational structure.
The core focus of digital product and marketing teams will significantly change due to these developments. My best guess is that teams who learn to adapt most quickly to these trends will come out strongest in the long run.

Ask your Chief Information – or Chief Digital Officer how he sees these market developments. Don't forget that IT-adaption takes time – so think lean and think ahead.

Google Duplex is a game changer, the question solely remains how quickly users will start to adopt the technology and rely on it.
Before your go
Please subscribe to my blog. You will be the first to receive my posts and articles on entrepreneurship, digital marketing, tech trends, user experience design and more. No ads, no cost, no strings attached.

I write all of my articles and they reflect my personal opinion. I'd love for you to join the conversation.
Email Address
Subscribe
Twitter more your thing?
You can find / follow and converse with me, right here: Follow @rlivain