Being an entrepreneur in a service industry is challenging. There is a constant struggle for cash flow, battle for good quality employees and the need to serve each and every customer as if your life depends on it. Even-though this might sound exaggerated, it reflects a large part of my emotions in the last few years.
I picked up my first (real) job, during the last years of my studies. After a short period of 12 months in a corporate environment, I chose to go my own way with a couple more senior colleagues I had gotten to know. Hence, I have not really spend much time in a truly corporate environment and dove straight into entrepreneurship.
However, the first few projects I worked on were B2C projects, including our own products and services. Ten years later in 2015, I decided to give the service industry a go and work "for others" to support them with their innovation efforts and digital endeavors.
Four years down the line, I can happily say that all the cliches of tertiary service providers and startup-struggles have applied. But, we have gotten stronger year over year, grown the business and successfully scaled our services from dealing with one single customer to 6-10 in parallel, two hubs of international teams in Switzerland (Zürich) and Germany (Munich), without any external funds.
But we didn't get there without learning the hard way. The B2B service industry is highly competitive and regardless of how strong your team might be, you will need to learn to maneuver your way around the B2B-service jungle.
Some mistakes can be avoided
Positive tips and tricks might be confidence boosters, but what really takes you and your company a step further is understanding the things you should really fear.
As a bootstrapped company, the one thing I have needed to make sure is that the cash flow is sufficient to meet our customer demands. We do not just need cash to keep our operations going, but we need margin we can invest in new team members and infrastructure. The better we do our job, the more our clients learn to expect from us, and with that comes investments.
One key mistake we've made when starting out was to price our services in a way that it would cover our operating expenses. However, we did not factor in what would happen 6-12 months from now and what could possibly be required from the client if we were to keep him happy after the on-boarding phase.
We now plan for the future, regardless of the size of the account – we plan on keeping and growing the relationship with the client from day one. Essentially this translates to: Start small, think big, communicate often
Start small
When you have the opportunity to help someone out, do it. It does not matter how big or small the customer or project is. One of the biggest mistakes is to focus on big projects with large customers from day one. You will want to build up a reputation and track record, which means you'll need to get on the score card.
When you are a young, new company odds are you will need to work on your reputation. I find it is best to simply show someone what you can do. Give them a "taste" of the action. You don't need to see a big project from day one. It makes far more sense to simply help out for a couple of days, and paint the big picture for the future early.
Once you get started with a client, opportunities will naturally evolve as you go along. Most of the times, the initial request is not what you will be working on with them, twelve months from now.
We've tried to sell larger projects from day one, but it is a hard sell to make. When you have just started out with your business, cash flow is key and you will want to get in there and simply do something. This does not mean that you need to discount your service in any way, just keep it sensible and don't try to hit a home run on your first pitch. It takes time to build up relationships and trust. Use it to get to know the customer and your own (teams) capabilities.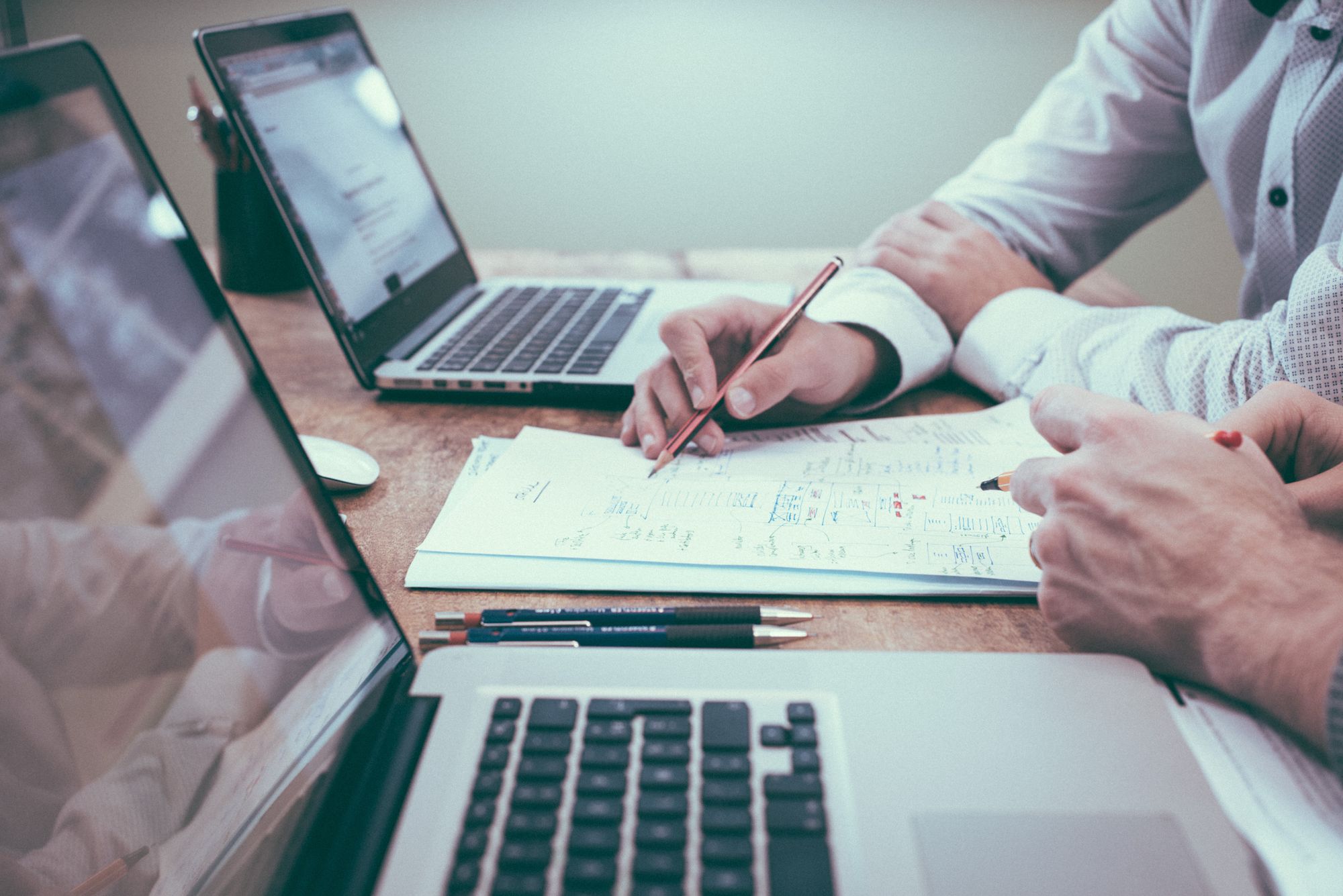 Think big
This seems so obvious, however I feel it does not come natural to many to dream out loud. Whenever you are invited to give your opinion on how someone is running their business, don't focus on the here and now but tell them about your dreams for them and the future.
Ideas are what drive service businesses. We need to come up with new approaches and ways to serve our customers, continuously. You need to force yourself and your team to get creative, think outside of the box and most importantly forget about the daily limitations your customers face.
Whatever problem your service business tries to solve, it is only as good as the additional value it produces. If your service only solves one single problem for the customer, you should still try to think bigger – learn about other limitations within their business model and learn with them. That will help you develop your services in the long run and offer a superior service to your competitors.
Communicate, a lot
So you have gotten started with your client and you have some great ideas on how you can help them grow their business, super – now you just need to tell them!
We tend to speak to our colleagues more ABOUT our clients than we speak to them about how we see their business.
It is absurd, really. It's so much easier to take about someone behind their backs than tell them how it is. Yet, as a service provider, this is really important. You need to be open in your observations and help those who want to listen to your views on the ways things are run.
I spend at least one whole day a week, speaking with our clients regarding my observations. Sometimes they listen, sometimes they don't. But, they appreciate the openness and the ideas. If they don't, that is a sign that we are either on the wrong track or we "just don't hit it off."
Whatever your relationship is with the customer, you need to speak with them – more than you really want to. It takes courage to speak your mind, and you need to learn to find the right communication medium with your clients (some love to write WhatsApp messages, prefer one-on-one time, or a simple e-mail could do). But one thing is for sure, it will improve your relationship with the customer and give you the possibility to go for an up selling opportunity in the long run.
Service is about communication
I pay a lot of attention to communication skills in our job interviews for new teamies. I really want to make sure that each and every one on the team is able to speak their minds freely and openly. I thoroughly believe that this is the key to running a successful service company.
Whether you are a b2b software provider or run a consultancy, it does not really matter – both are about creating a customer relationship and tailoring to the needs of others. You need to plan on spending a lot of time working on solutions and ideas for your customers, possibly without being paid. But you should not see it that way.
It is crucial that you learn to understand and communicate your solutions for your clients. Most clients do not know exactly what they are looking for, and when you do your job right you might even not really know what you would like to (and can) sell yet either.
Start Small, Think Big, Communicate Often.
Before your go
Please subscribe to my blog. You will be the first to receive my posts and articles on entrepreneurship, digital marketing, tech trends, user experience design and more. No ads, no cost, no strings attached.

I write all of my articles and they reflect my personal opinion. I'd love for you to join the conversation.
Email Address
Subscribe
Twitter more your thing?
You can find / follow and converse with me, right here: Follow @rlivain