What is this about?
Quibi is a mobile only video streaming platform
Under pressure of its viewers, the company has decided to add Chromecast and AirPlay support
Did the mobile only concept fail to catch on?
---
💡
Quibi has been discontinued, but I think this is still a very interesting article. We can learn quite a lot from failed projects, and this was one BIG fail!
Quibi has gotten off to a rough start. The prestige streaming project, launched and owned by some of Hollywoods finest content producers, has had to make some changes to its model.
The mobile only streaming services launched a few months back. It is a beautiful app that gives its users short video content of up to ten minutes it calls Quick Bites (get it, Qui Bi).
The great thing about the content on the app is the way it can be viewed. All shows were shot in both landscape- and vertical (smartphone style) orientations. The shows look absolutely stunning and some are really interesting.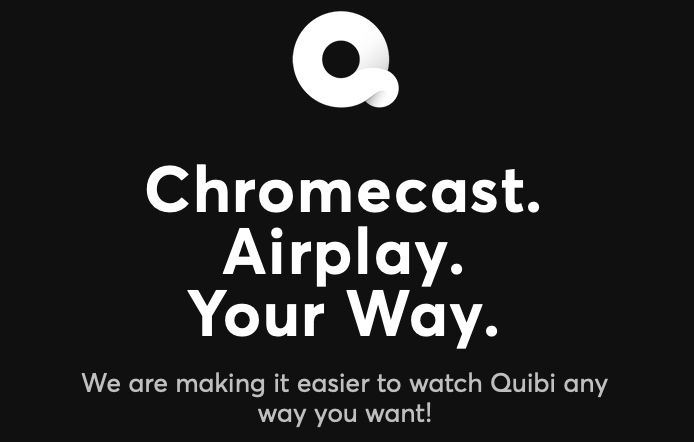 Big drawback of going all-in on mobile
Going smartphone only was a bold move – too big of a gamble as it seems. The shows on Quibi are great entertainment for the whole family and video content is often times enjoyed in a larger family setting.
But the app did not allow the user to stream / cast the contents to a TV or any other device. This made it extremely difficult to watch a show with your bae or spouse.
However, the Quibi-Team just send out an email saying that users can now stream their content to any AirPlay or Chromecast device.
Did the Quibi team cave in?
Mobile only is nearly impossible
Sure, we all have smartphones. But how do we really consume video content?
It appears the development team around Quibi has understood that mobile only, doesn't work. Users want and need to be able to share the experience. Watching shows together is simply better than alone.
I cannot wait to try streaming "The most dangerous game" to my Apple TV tonight; it was one of the few shows I started watching, but would have loved to share with my fiancee as well. I guess it's time for a Friday night, movie night 📺🍿.
Have a great weekend everyone, Remco
---
FAQ about Quibi
What does Quibi mean
Quibi stands for Quick Bites, short video content of up to ten minutes that can be consumed on the go. The idea is that viewers can watch a Quick Bite whilst on their commute to work, or even when they are on the toilet   When was Quibi founded
Quibi is an American short-form mobile video platform headquartered in Los Angeles, California, founded in 2018 by Jeffrey Katzenberg.  How much money have Quibi raised
According to Techcrunch they have raised more than 1.75 billion US Dollars to date (June 2020)  Can I watch Quibi on my TV?
Quibi's app did not allow videos to be streamed to TVs. However, the latest update has made substantial changes to the model. The app allows users to stream content to Google Chromecast and Apple AirPlay devices.